Do you want to fill your garden with beautiful leaves as well as beautiful flowers?
Some of the plants that bear particularly striking foliage include caladiums, hostas, coleus, ninebark, smoke trees, begonias, and cannas. Any of these can transform your garden, filling it with colorful hues and beautiful contrast.
In this article, we'll look at the top plants with stunning foliage to help you make the best choices for your garden.
What Plants Have The Most Colorful Foliage?
There are lots of plants to choose from when it comes to creating a stunning garden, but if you aren't sure what you should pick and your garden is looking bare, here are some amazing plants to try:
Caladiums
Hostas
Coleus
Ninebark
Smoke trees
Begonias
Cannas
Dusty Miller
Cordyline
Croton
Amaranthus tricolor
Sweet potato vine
Of course, there are many others, but these plants offer particularly striking, vibrant, and well-contrasted foliage that will make your garden look phenomenal. Some of them are unusual varieties that are bound to make people fall in love with your outdoor space.
Grouped together, these plants make an incredible display, so let's learn more about each of them so you can choose your favorites and start turning your garden into a dream landscape.
1) Caladiums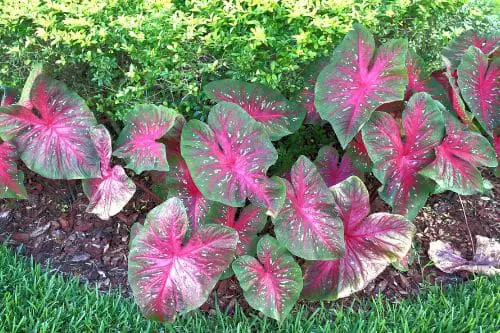 These plants are sometimes known as "angel wings" because of their beautifully shaped foliage, which curves elegantly to a point at the base of the leaf. If you want mostly greenery, but with splashes of color, caladiums are a perfect choice, because they offer a wonderful mix of greens, pinks, and whites.
The leaves are big and showy and have a spiderweb of color spreading out from the centers, marking out the plant's veins. The greenery is flecked with white like stars. Every leaf is unique, so you'll get a great array of colors for your garden.
If you've got textured beds with lots of spiky plants and sharp shapes, the softness of a caladium will make a great contrast.
These plants also have the additional benefit of thriving in either full or partial shade, which is fantastic. They don't like full sunlight, however, so you won't be able to grow them in a very sunny garden.
2) Hostas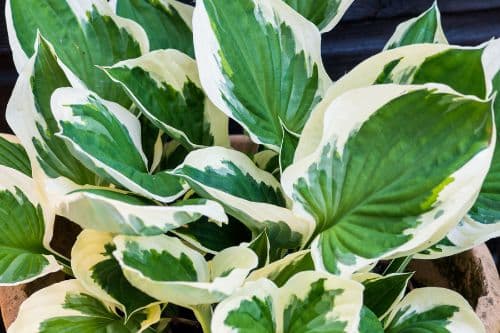 Hostas are famous for their incredible foliage, and many people love adding these to their gardens. They are also wonderfully good for the wildlife, providing early food to spring pollinators. If you're looking to make your garden eco-friendly, they are an exceptional choice.
Hostas have a distinctive appearance, but there are quite a lot of varieties, so choose with care. They have textured, elegant leaves that will fill your borders with color. Some hostas have creamy stripes across the centers of their leaves and offer an elegant emerald hue on the edges.
If that sounds appealing, you should consider opting for the Minuteman variety, but you can also choose many other kinds of hostas. Some people love the Fire Island for year-round color. It follows the seasons, taking on a yellower hue in the colder months, and becoming more vibrant in the spring.
Hostas are happy with shady spots in the afternoon, but they do like a bit of morning sun, so try to position them accordingly. 
3) Coleus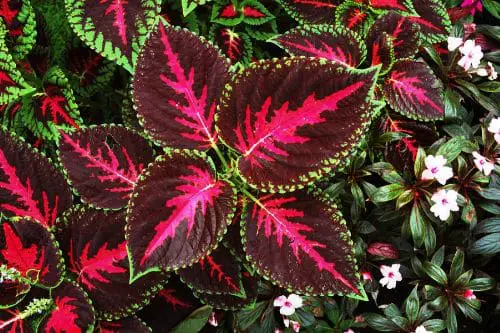 If you are a fan of bright and unusual colors, coleus plants may be the best option for you. Coleus is a great choice if your garden tends to be shady, but there are some varieties that enjoy the sun too, so choose with care to ensure the plant will thrive in your space. 
One of the best things about coleus plants is that they come in such a wide range of colors. Whether you are looking for red, pink, burgundy, yellow, or something in between, you should be able to find a coleus that you love.
Coleus looks a little like stinging nettles, with serrated, arrow-shaped leaves. Many have multiple colors spread across the leaves, and there are some giant varieties, like the Kong series, which has leaves that measure around 6 inches!
4) Ninebark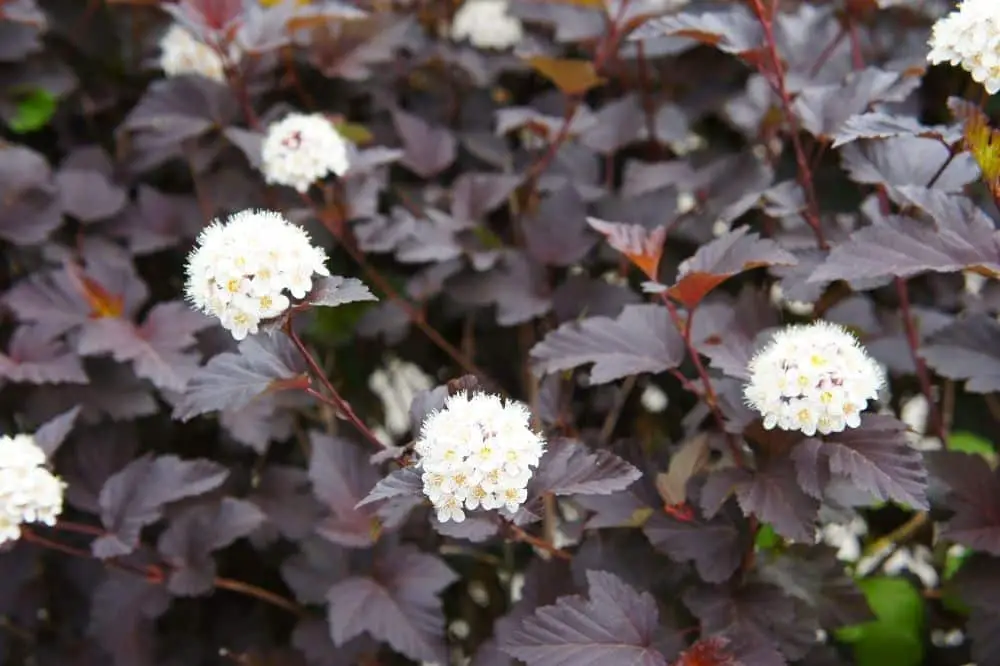 For those who love dark foliage, ninebark is a great option, especially if you choose something like the Diablo style, which offers smoky reds and rich, wine hues. There are other varieties too, including some that are yellow or bright green, and any of these will look wonderful in your garden.
The flowers are attractive, giving you the best of both worlds – foliage and blooms. They are white and form tight clusters that look amazing, especially on the darker shrubs. There is no doubt that ninebark is a wonderful way to add some color to your home garden, whichever kind you opt for.
5) Smoke Trees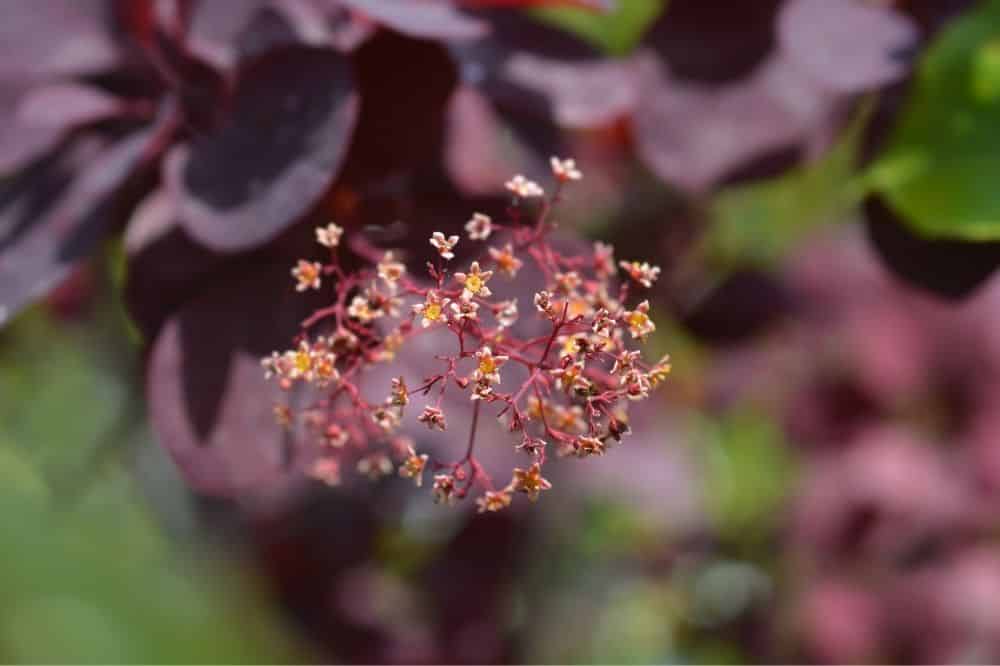 In spite of its name, a smoke tree is often considered a shrub, and it is a particularly stunning option. It has amazing, dark foliage that looks like fire when the sun shines through it – hence its name. If you get a smoke tree in the right lighting, your whole garden will burn brightly with delightful red hues.
Again, there are several varieties, and some of them have deep purple foliage that looks amazing even without the help of the sun. Opt for something like Velvet Cloak or Royal Purple for some truly stunning colors that you will love. Alternatively, if you want a striking green, some smoke trees have leaves the color of limes.
Smoke trees may not be happy in a particularly cold environment, but in general, these plants do well in any garden. They are hardy, and they will tolerate even tougher soil types, like sand, provided they get enough water. A smoke tree can also cope with dry conditions once it has got a good root network established.
If you don't want your smoke tree to get too high, it will tolerate being pruned to a fairly compact shrub, which might be a good option if your garden is small.
6) Begonias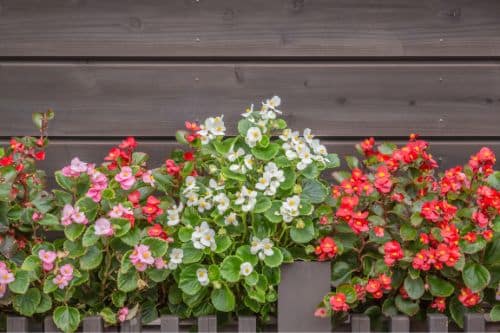 Begonias are probably among the most famous plants for extraordinary and colorful foliage, and if you have a begonia in your garden, it might already be the star of the show. Why not add a few more, in that case? If you haven't got one, it's time to add some.
Begonias come in many shapes and sizes, and that is reflected in their amazing foliage too. One begonia might be deep, lush green, while another would be dark ruby, and a third rich purple. Whatever color you need for your garden, you can probably find a begonia that fits the bill.
The foliage is also particularly attractive because it tends to be glossy and beautiful, so it will catch the sun and draw your eye to the plant.
It is worth noting that begonias are tropical plants, and while they can be grown outdoors, you should check that the climate you live in is suitable for them. If you grow a begonia in a USDA zone that is too cold, your plant is likely to die as soon as winter arrives.
7) Cannas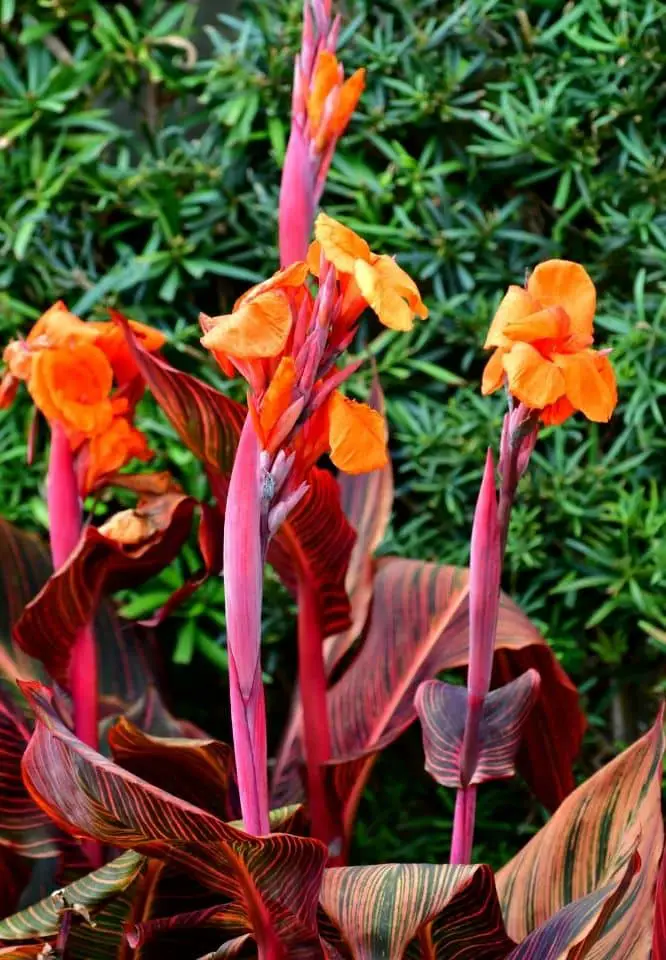 Canna is the ideal choice if you wish to bring the tropics into your landscape. They have huge, textured, leaves that lend a soft, abstract look to the garden. The leaf colors vary between types, and you can get bronze, black, green, gold, striped, or even variegated foliage. 
They are enormously beautiful plants that will bring a touch of true beauty to your garden. They can also get pretty big, so many people use them as bright and attractive screens.
A painted variety will give you a stunning plant, and what's more, the flowers are very beautiful too. These can be yellow, red, orange, pink, or even multicolored, depending on the variety. Choose your favorite, and make your garden bright with beautiful growth.
Note that cannas can grow to 6 feet tall, and even the dwarf varieties may reach 4 feet. You need to give them plenty of space to fully enjoy their splendor, so don't cram one into a corner. They will tolerate full sun or partial shade, making them a flexible option.
8) Dusty Miller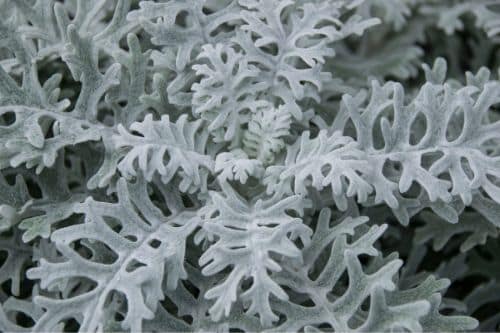 A lot of the plants so far have been about bold splashes of bright colors, like reds and oranges. Sometimes, though, it's the silvery hues that stand out, especially if your garden is dark or you've already got some dark plants in it.
This is where Dusty Miller comes in. This plant has delightful silver-white leaves, which branch out in graceful shapes. If you want to make your garden look textured and bring some angles to it, this is a great choice. Dusty Miller looks like frost in plant form, and it's a truly beautiful option.
There are again a few varieties, so you can choose your favorite shade of silver. Dusty Miller goes with just about any other plants, so it's perfect for gardeners who already have an established space but want just a touch more foliage to make their space look beautiful.
9) Cordyline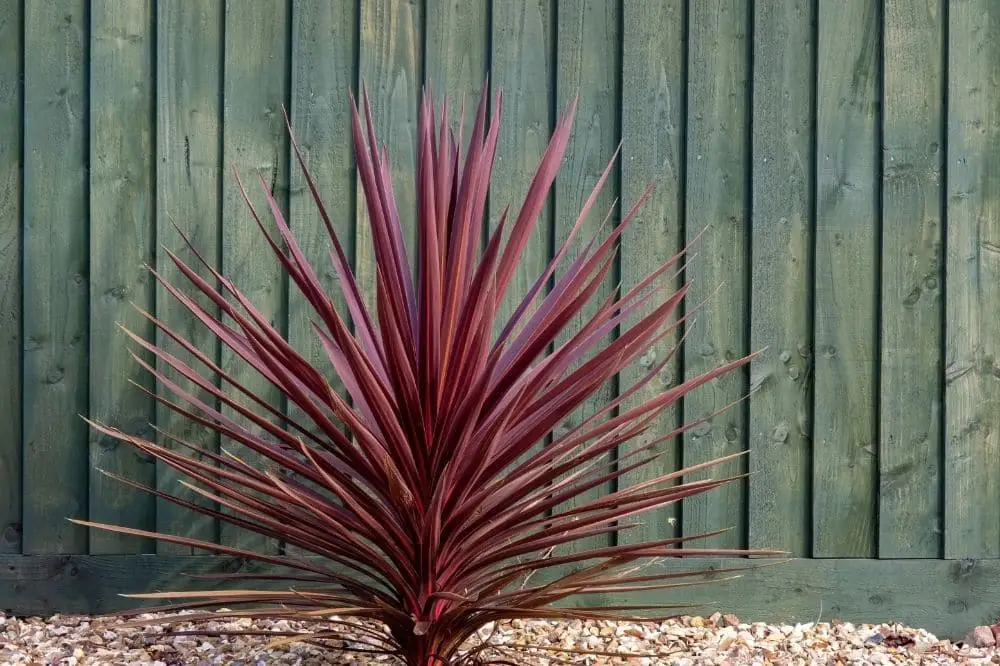 Back to the bolder hues, cordyline is a good pick when you want pinks and reds. With names like Candy Cane and Florida Red, you can guess that this plant is going to be bright and eye-catching.
It's also got a great shape, with long plumes striking up toward the sky. Cordyline is sometimes known as the Ti plant, and it is popular across Asia, so it's a wonderful way to make your garden look more exotic and unusual.
Many varieties have multiple colors in their leaves, making them interesting to look at, and helping to soften their otherwise strong shapes and colors.
10) Croton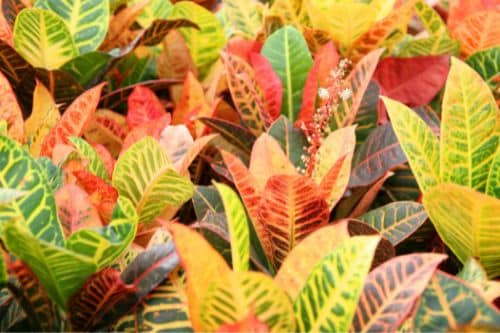 If you live in a warm climate, you are lucky enough to be able to grow croton in your garden, and this is a sure winner when it comes to adding color. Set your garden swimming with a blaze of fall hues, with pinks, greens, oranges, yellows, and creams all rolled into one fabulous plant.
The leaves are generally elongated and crinkly, with waves pulling in the edges of the foliage. The veins often stand out, and the plants will bring both texture and vibrancy to your flowerbeds.
11) Amaranthus Tricolor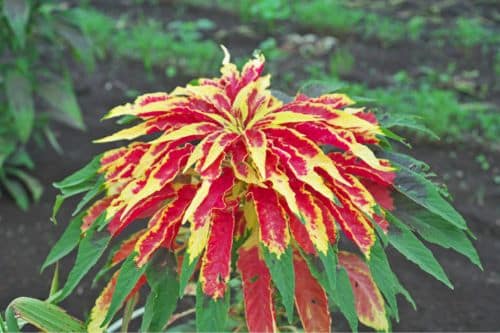 The name alone is enough to suggest that this plant has some impressive colors to share with the world, and it manages to roll together green, red, and orange in each beautiful leaf. It's so extraordinary, it's hard to believe it's real!
This plant loves the sun, and it will set any bright spots of your garden ablaze with its juicy hues and stunning palette.
Give this plant the star position in your garden because it will need it to truly shine. It is a bold choice and you might want to opt for some more muted options around it so that it draws in the viewer's eye.
12) Sweet Potato Vine
It can be tricky to find a bright plant that also provides ground cover, rather than ricocheting into the sky, but sweet potato vine is the answer. It is related to the sweet potato, and it comes in a whole range of different colors, from brilliant green to blackest purple. It can also be bronze or golden, and sometimes even red.
The leaves are heart-shaped and attractive, and this plant is happy in partial shade, with wet soil.
Conclusion
There are many amazing plants that you can add to your garden to fill it with color. Any of these could transform your outdoor space, so pick your favorites and enjoy their beauty throughout the year. It's a great idea to mix and match, so opt for some bright colors and some darker hues to make your outdoor space stunning.